Here at High Park Barns we have put in place a number of measures to keep all of our guests & staff safe, whilst allowing guests use of the swimming pool and hot tub facility without any concerns.
This page details everything we have done, as well as aspects where guests play their part in keeping High Park a safe, relaxing and enjoyable venue.
Enjoying the Swimming Pool
To keep guests as safe as possible, dedicated pool timings have been assigned. The slots are rotated on a daily basis to that every property receives a 1 hour fixed time slot every day in one of the 7 timed slots. No "deemed preferential" time slots have been allocated twice in a 7 day period.
The swimming pool and hot tub will be open.
Please change into your swim wear in your property and only take what you need to the swimming pool, e.g. swim towel, googles and inflatables.
Please do not leave anything in the swimming pool area.
Please do respect the timings so that all the guests can enjoy the swimming pool.
Please don't take a guests slot thinking they may not be coming. Not every guest will immediately arrive at the start of their slot.
Please clear the pool and lobby area promptly at the end of your slot to prevent next guests from potentially waiting in the cold & wet.
Please allow guests to fully clear the pool and lobby area before entering.
Please apply the disinfectant spray to the door handles as you leave in readiness for the next guest.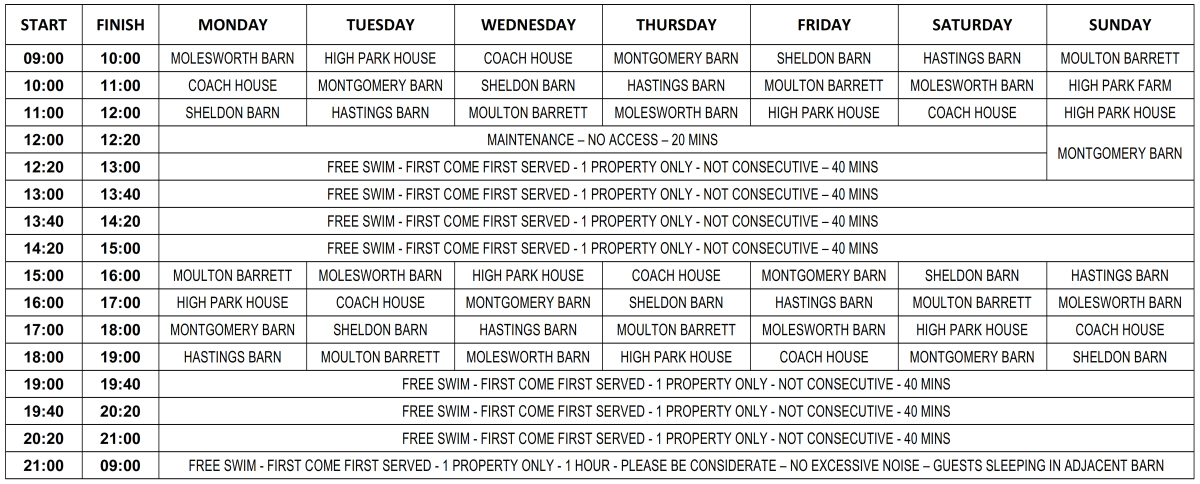 Checking in
All guests will self check in and self check out. A welcome email providing details of this will have already been sent to you.
Please remove your shoes when entering the property and leave them at the entrance.
During your stay
Hand wash has been provided in all bathrooms. Please wash your hands regularly with hand soap and water for at least 20 seconds.
All soft furnishings have been removed, including cushions, throws, bedspreads and rugs.
Please maintain 2 metres from anyone not in your party.
If we meet you during your stay, we will maintain social distancing during any interactions with our guests,
Individual gas BBQs – we have provided each barn with individual gas BBQs. If you do use the BBQ, please clean it ready for the next guest. BBQ brushes have been provided. Also please do let us know if it is running low on gas.
Additional Cleaning Measures
All laundry is cleaned at a commercial laundry which thermally and chemically disinfects the laundry. The laundry is being washed at 65 degrees minimum and a disinfectant is being added to the final rinse.
The same cleaners will be cleaning each barn each week.
The cleaners have been supplied with disposable aprons, face masks and gloves.
The property will be thoroughly cleaned between each visit.
Once the property has been cleaned, Isopropyl alcohol will be sprayed on all high touch surfaces including all door handles, remote controls and light switches as well as bathroom taps, toilet flush handles, toilet seats. Isopropyl alcohol is the most common and widely used disinfectant in hospitals etc). It is rapidly antimicrobial against all bacteria, fungi, and viruses including Covid-19.
Cleaning spray has been left under the sink in the kitchen should you wish to clean during your stay.
If you display Covid-19 Symptoms
If anyone in your party has any symptoms, you must leave High Park Barns immediately and return home to self-isolate. Please take the test and inform us of the result so we can take the necessary precautions in the property and inform guests who may have stayed at the same time as you. We will also inform the NHS test and trace system.
Before You Go
Green linen bags have been provided in each barn. Please carefully strip the beds taking care not to shake the bedlinen or towels as this could disperse viral particles into the air. Please place all linen and towels in the green bags, seal and place near the front door.
Please open all the windows to air the property. If it is raining, please do not open the upstairs velux windows in Montgomery and Hastings as it will damage the floor.
Please ensure that the air conditioning has been turned off.
Please empty your waste bin and recycling box in the large designated bin in the 'Waste & Recycling' area.
Lock the front door and put the key back in the key safe. This will then be cleaned before the next check in.