South West Coast Path Walks
The South West Coast Path is England's longest waymarked long-distance footpath and a National Trail. It stretches for 630 miles (1,014 km), running from Minehead in Somerset, along the coasts of Devon and Cornwall, to Poole Harbour in Dorset. Because it rises and falls with every river mouth, it is also one of the more challenging trails. The total height climbed has been calculated to be 114,931 ft (35,031 m), almost four times the height of Mount Everest.
The path originated as a route for the Coastguard to walk from lighthouse to lighthouse patrolling for smugglers. They needed to be able to look down into every bay and cove: as a result, the path closely hugs the coast providing excellent views but rarely the most direct path between two points. The South West Coast Path is no longer used by the Coastguard but it has been transformed from a practical defence system into a resource for recreational walkers.
There are a number of extremely pictureque circular walks in the local area which take in sections of the South West Coast Path. They vary in length and difficulty, but all revel in the natural beauty of the coastline. Trail maps for seven walks can be viewed and download below.
---
Abbotsham and Westward Ho! - DOWNLOAD PDF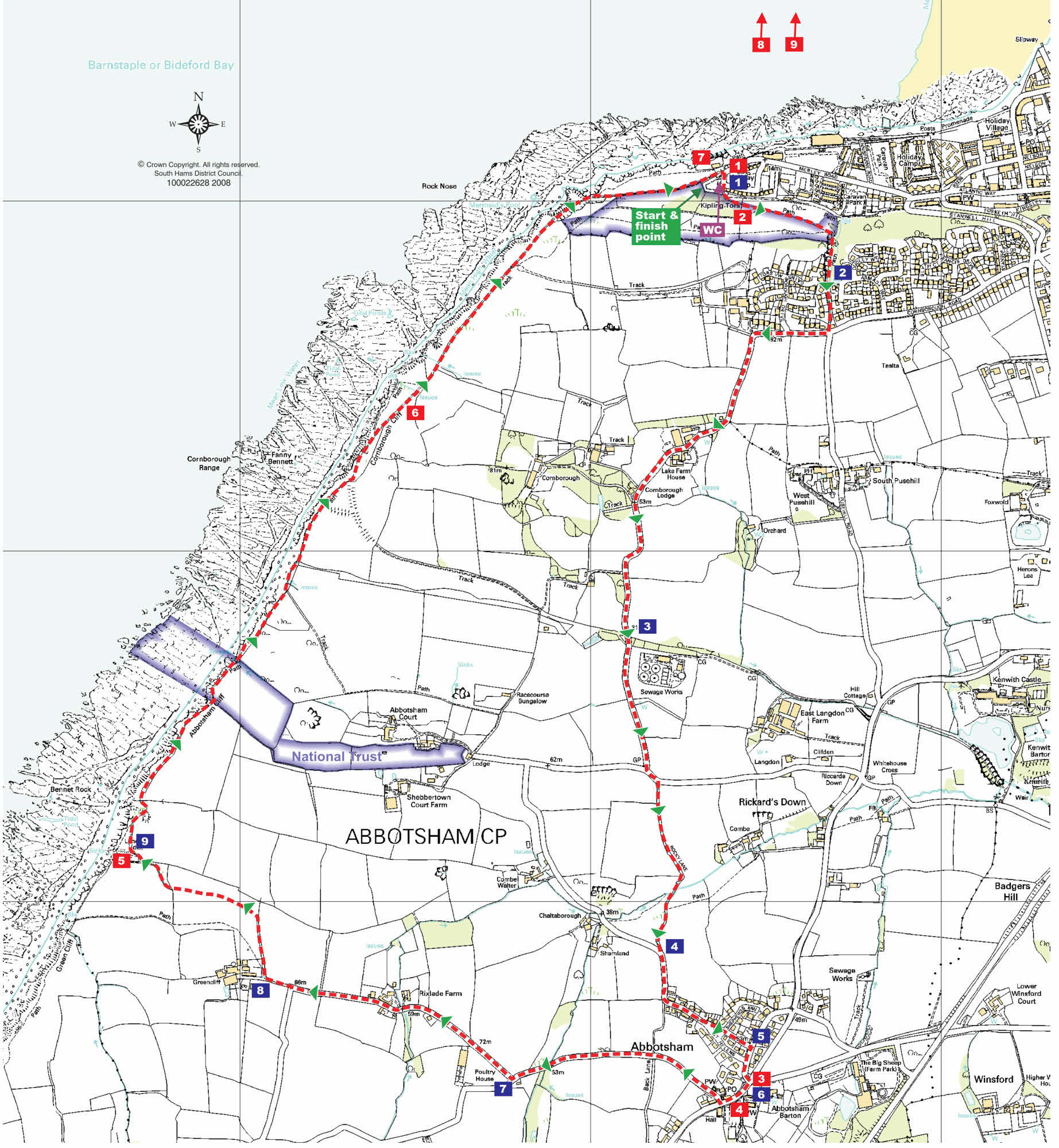 Start/Finish: Kipling Tors car park, Westward Ho!
Distance: 5.5 miles (9km) Circular walk: Yes
Grade: Easy to moderate
Terrain: Quiet country lanes, public footpath, green lane, and coast path. Fairly even going underfoot, with a few wet or muddy patches in damp weather.
Obstacles and steep gradients: None
Accessibility: A shorter Access for All route follows part of this walk along the coast path from Westward Ho!
Toilets: Public toilets by Kipling Tors car park.
Parking: Kipling Tors car park. Free
Other Facilities: Public payphone by church in Abbotsham.
OS map: Explorer 139 Grid ref: SS 423291
---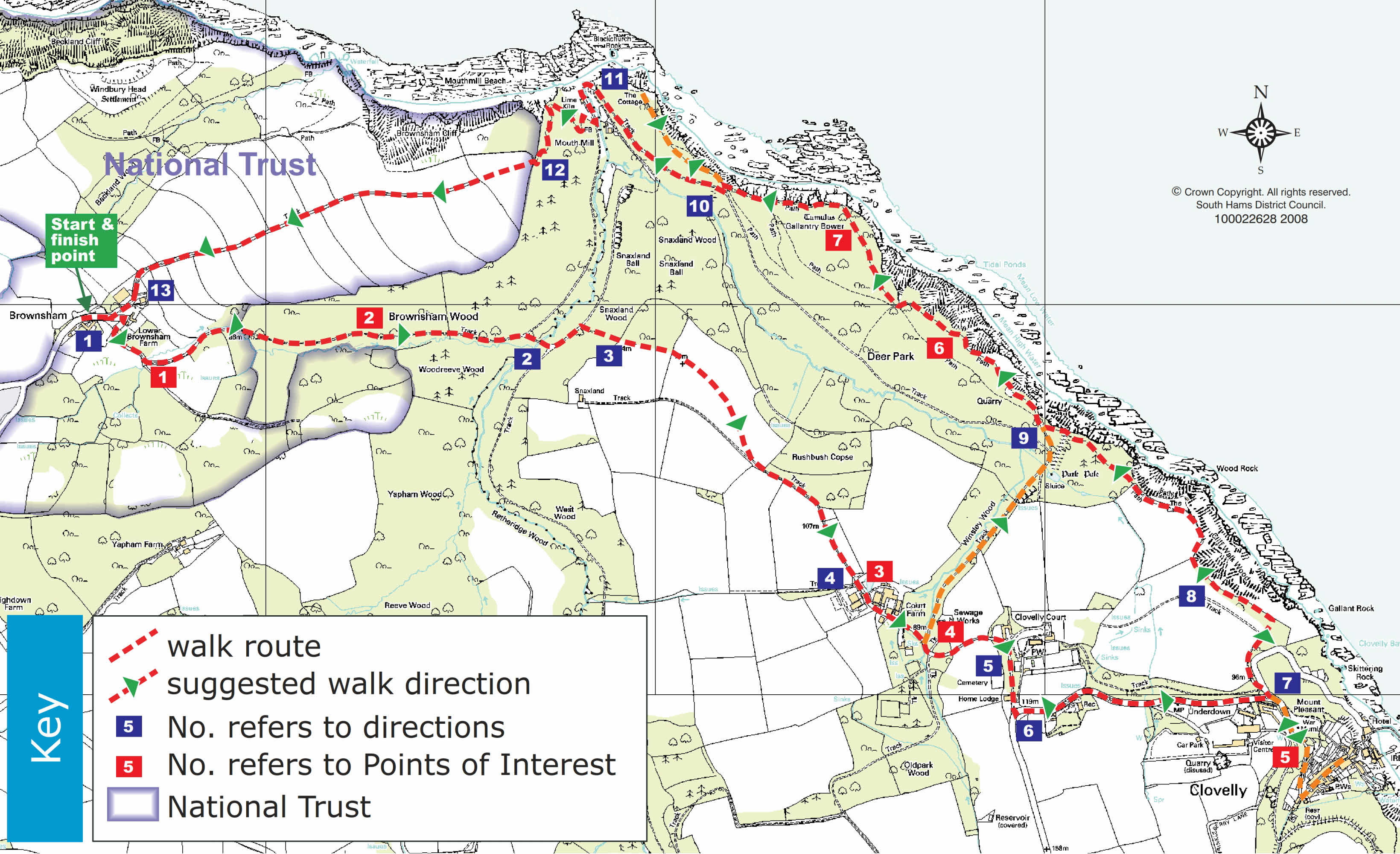 Start/Finish: Brownsham car park
Distance: 5.5 miles (9 km)
Circular walk: Yes Grade: Moderate
Terrain: Coast path, public rights of way, surfaced road, and green lane. One rocky and uneven stretch and some slippery patches in wet weather.
Obstacles and steep gradients: 3 flights of steps; 2 stiles; 1 steep ascent;1 steep descent
Accessibility: Route is unsuitable for wheelchairs or pushchairs
Toilets: No public toilets on route. Toilets are available in Clovelly, a short detour from main route
Parking: Brownsham National Trust car park. By donation
Other Facilities: Public payphone, post office and general stores in Clovelly village, a short detour from main route
OS map: Explorer 126 Grid ref: SS 285259
---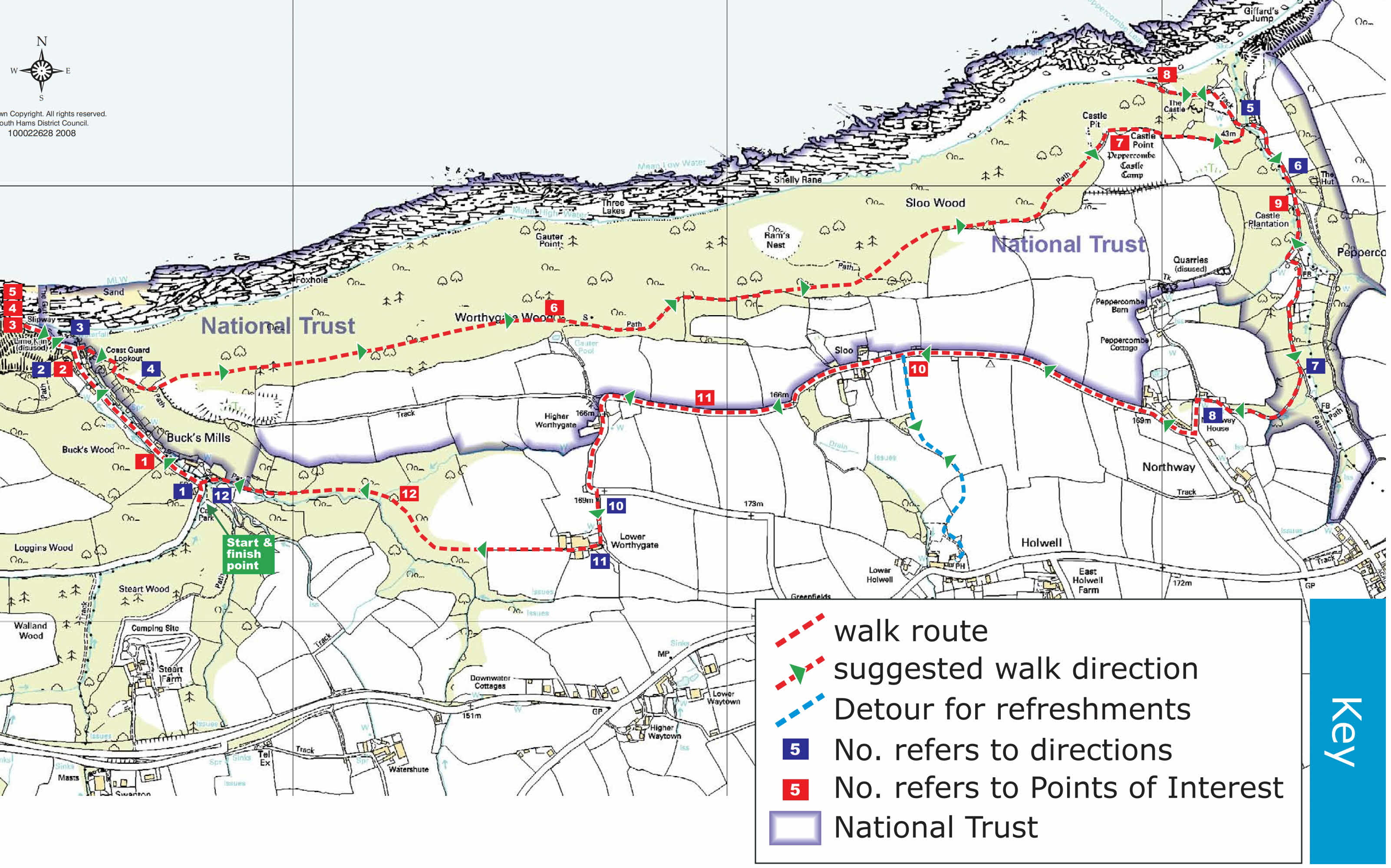 Start/Finish: Bucks Mills car park (7 miles west of Bideford off the A39)
Distance: 5.5 miles (9.0 km)
Circular walk: Yes
Grade: Moderate
Terrain: Coast path, public rights of way, surfaced road. Mostly reasonable underfoot. Some slippery stretches on coast path in wet weather
Obstacles and steep gradients: 3 flights of steps; 1 stile; 1 steep climb
Accessibility: This route is not suitable for wheelchairs or pushchairs
Toilets: No public toilets on walk route
Parking: Bucks Mills car park. Free
Other Facilities: Public payphone in Bucks Mills, to right where walk route turns onto coast path from village street
OS map: Explorer 126 Grid ref: SS 358232
---
Croyde and Saunton Down - DOWNLOAD PDF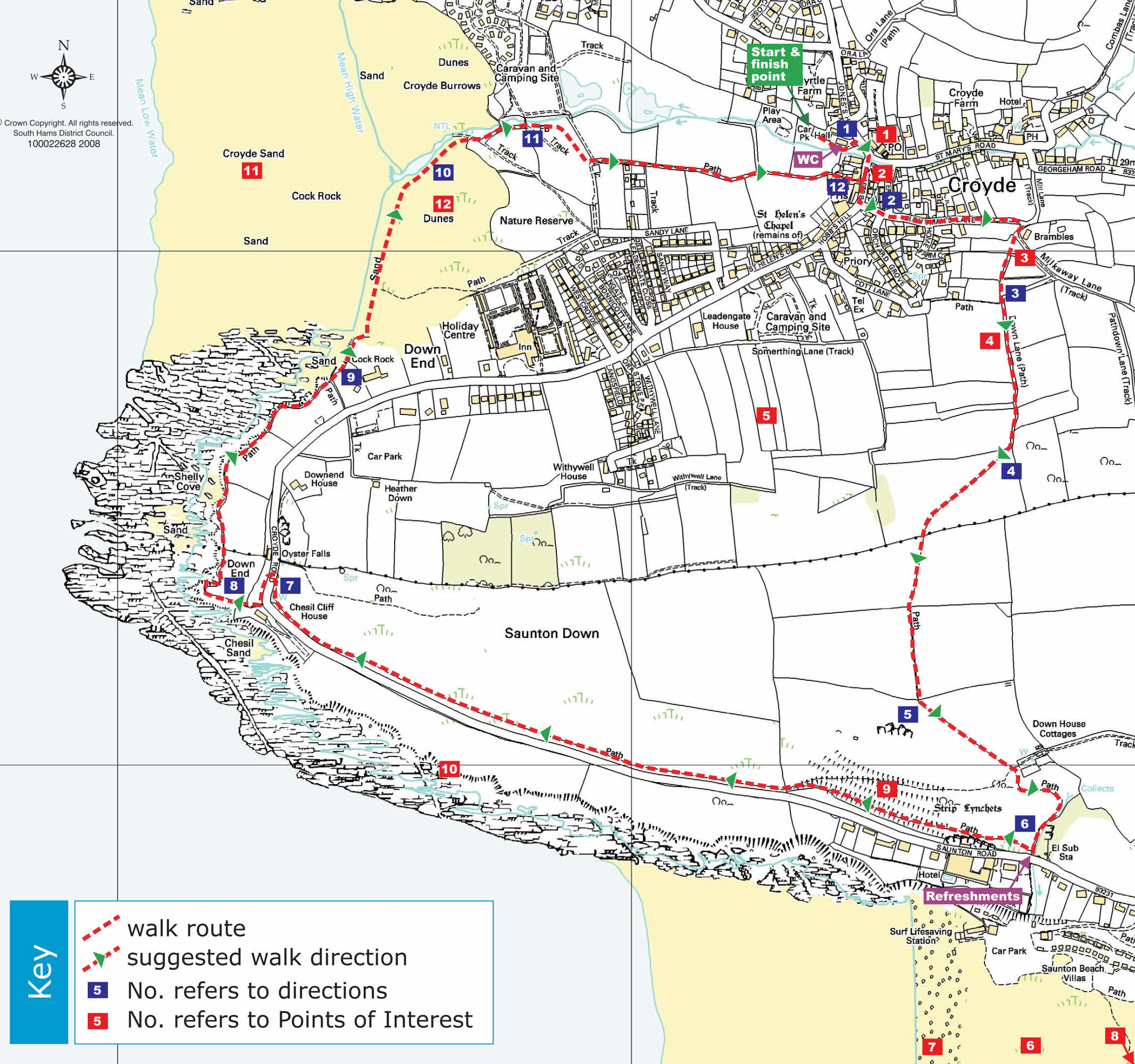 Start/Finish: Croyde Village Car Park
Distance: 3.5 miles
Circular walk: Yes
Grade: Moderate
Terrain: Coast path, public footpath, surfaced road. Fairly even underfoot, with a few slippery stretches.
Obstacles and steep gradients: 8 flights of steps; 7 stiles
Accessibility: This route is not suitable for wheelchairs or pushchairs
Toilets: Public toilets at entrance to car park.
Parking: Croyde Village Car Park. Pay and Display
Other Facilities: Public payphone at entrance to car park on left. Village stores and post offi ce opposite car park entrance.
OS map: Explorer 139 Grid ref: SS 444392
---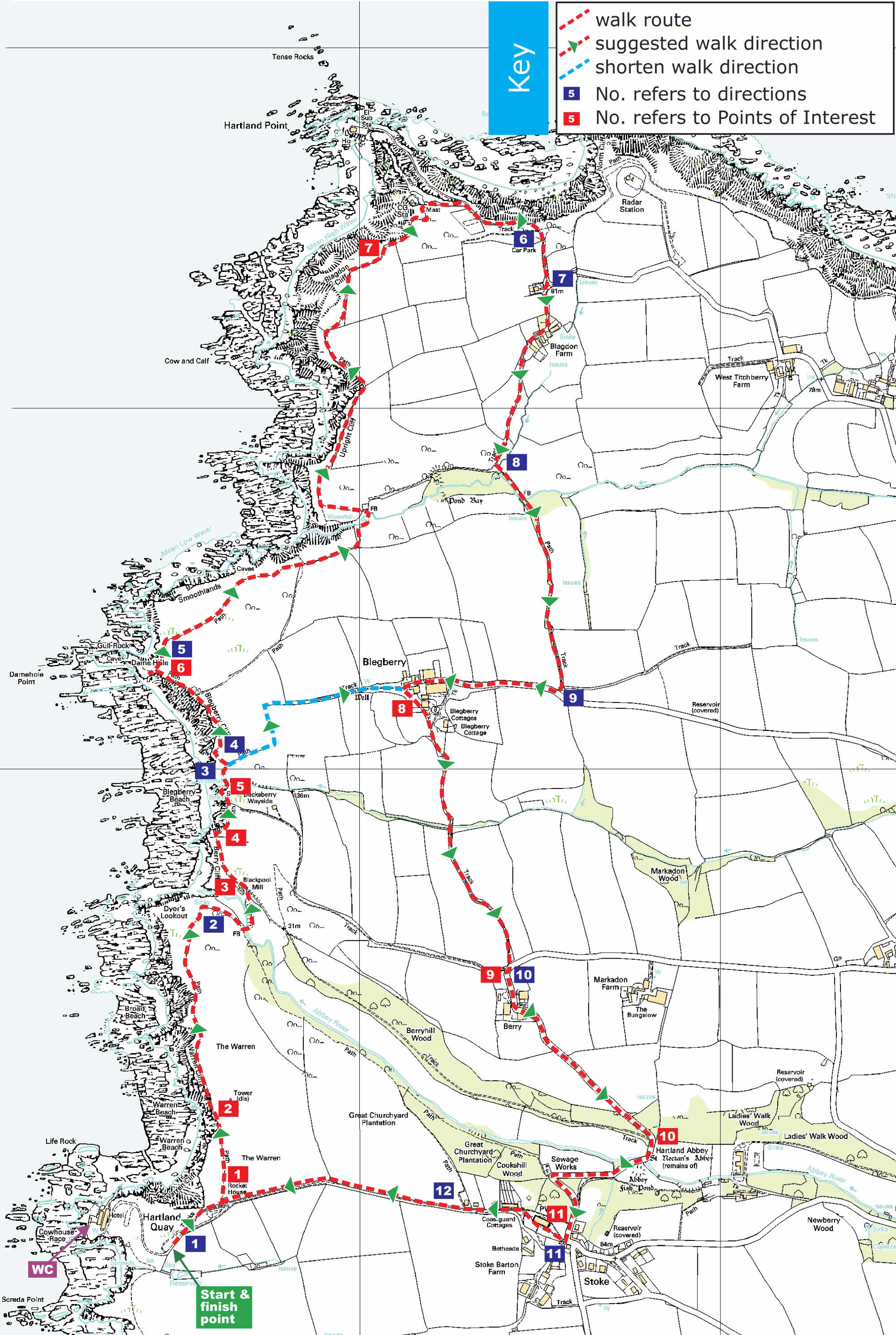 Start/Finish: Hartland Quay car park (3 miles west of Hartland)
Distance: 6 miles (9.5 km); shorter route 3.5 miles (5.5 km)
Circular walk: Yes
Grade: Short route: moderate to strenuous. Full route: strenuous
Terrain: Coast path, public rights of way, surfaced road. Mostly reasonable underfoot. Some tricky footing on coast path
Obstacles and steep gradients: 6 fl ights of steps; 4 stiles; 5 steep ascents; 3 steep descents
Accessibility: This route is not suitable for wheelchairs or pushchairs
Toilets: Public toilets by Hartland Quay Hotel; also in Stoke, by church
Parking: Hartland Quay car park
Other Facilities: Hartland Quay Hotel, refreshment kiosk at Hartland Point
OS map: Explorer 126 Grid ref: SS 224247
---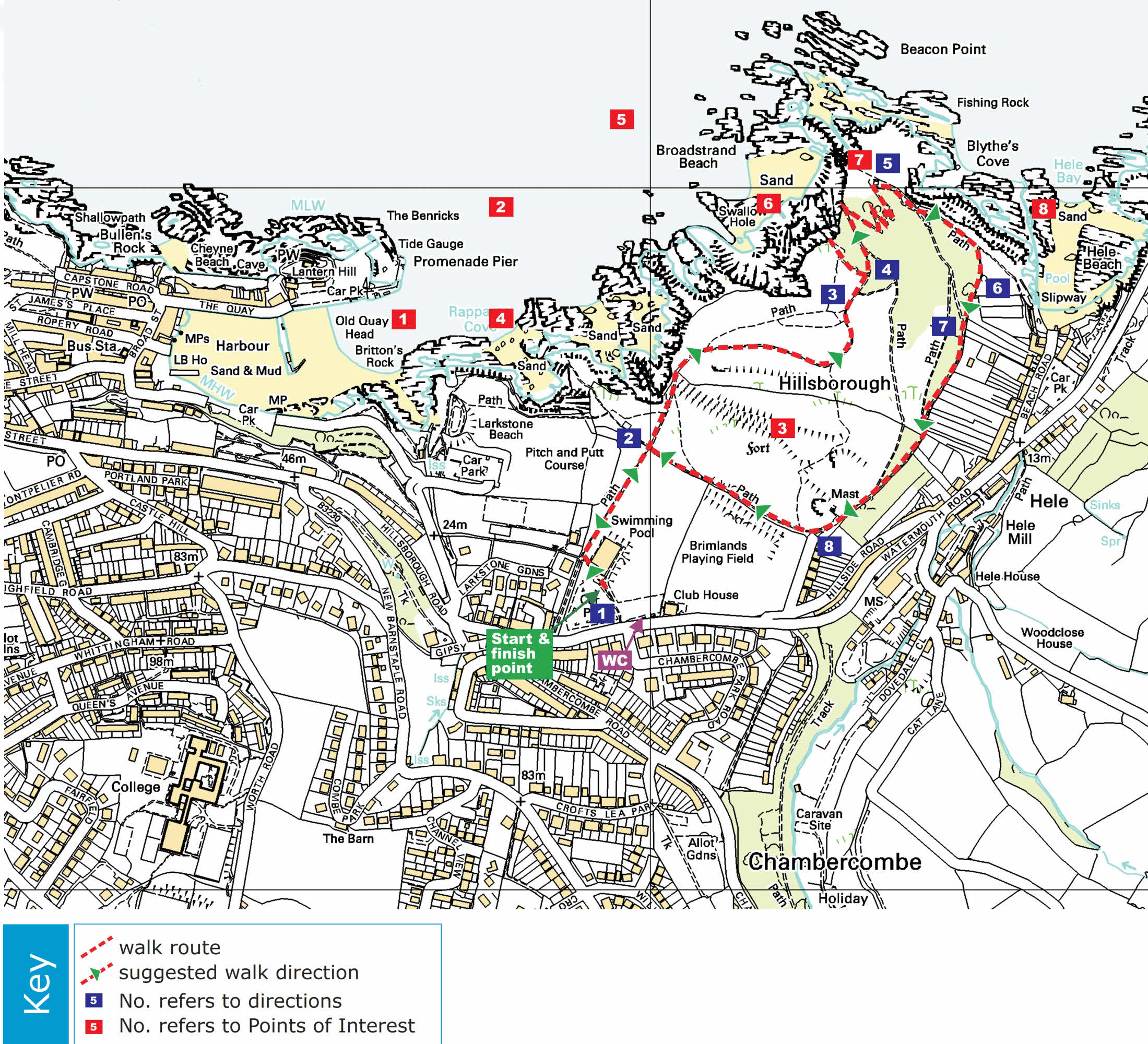 Start/Finish: Hillsborough Car Park, Hillsborough Rd, Ilfracombe
Distance: 1.5 miles (2.5km)
Circular walk: Yes Grade: Moderate
Terrain: Coast path and public footpath. Some rocky, uneven, slippery and muddy patches
Obstacles and steep gradients: 10 flights of steps; 1 steep descent
Accessibility: Route is unsuitable for wheelchairs or pushchairs
Toilets: Public toilets at Hillsborough Car Park; also at Hele Beach
Parking: Hillsborough Car Park, Hillsborough Rd, Ilfracombe. Pay and Display
Other Facilities: Public payphone 150m down Hillsborough road from car park, on left.
OS map: Explorer 139 Grid ref: SS 529473
---
Lee Valley and Bull Point - DOWNLOAD PDF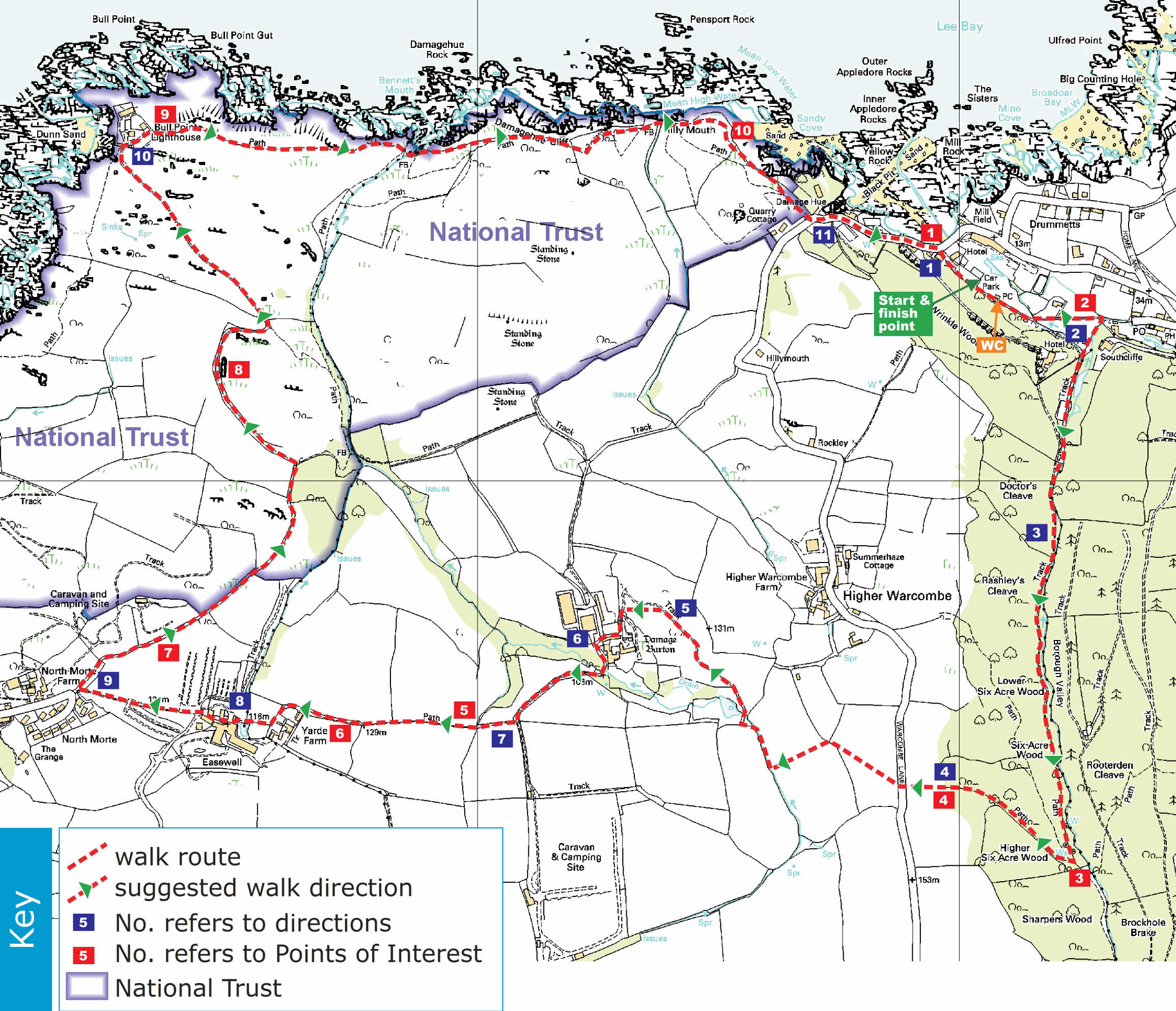 Start/Finish: Lee Cove car park
Distance: 5 miles (8 km)
Circular walk: Yes
Grade: Moderate to Strenuous
Terrain: Coast path and public footpath. Some rocky, uneven, slippery and muddy patches
Obstacles and steep gradients: 6 flights of steps; 14 stiles (4 can be avoided); 3 steep ascents; 2 steep descents
Accessibility: This route is unsuitable for wheelchairs or pushchairs
Toilets: Public toilets 75m up footpath along route from car park
Parking: Lee Cove Car Park. Pay and Display/honesty box
Other Facilities: Public payphone on right, 700m back up through Lee village from Cove car park
OS map: Explorer 139 Grid ref: SS 480464
---
Useful Links